Baking delicious sourdough bread doesn't have to be overwhelming or complicated.
In this course you'll learn each step of the process, and how to simplify sourdough baking so it fits into an active lifestyle.
What You Will Learn
How to bake authentic sourdough bread, like the ones found in a French boulangerie, from just three simple ingredients
The science behind flour fermentation - and why that's a good thing for your gut health
How to be creative, using your own unique combination of ingredients, without losing the magic of authentic sourdough baking
Testimonial: Mike
Mike was looking for a new hobby to engage more with his teenage son. He had great memories of fresh baked artisan bread from his experience living in France as an expat. Sourdough bread making was the perfect hands on activity for fun and creativity.
What You Get
18 videos, 1 checklist, and 6 handouts to print and keep.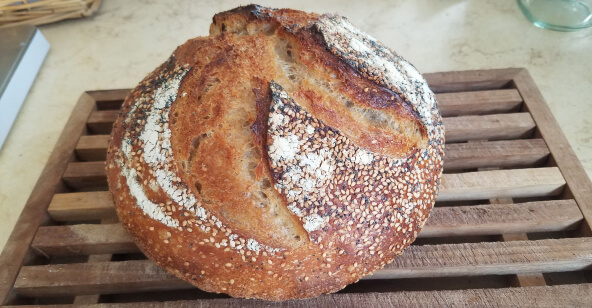 1 Checklist
You'll learn how to make a sourdough starter and use it to create an Artisan Country Loaf and a Whole Wheat Loaf. You'll also learn how to adapt the recipes to your own tastes.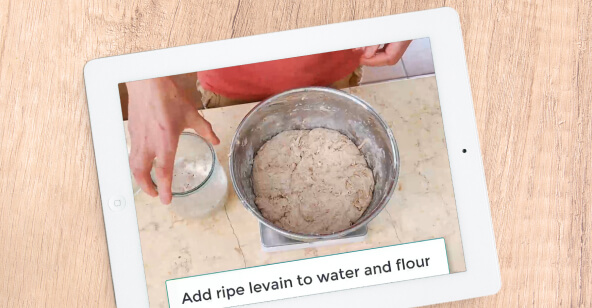 18 Videos
Online videos simplify the complex process of preparing and fermenting sourdough.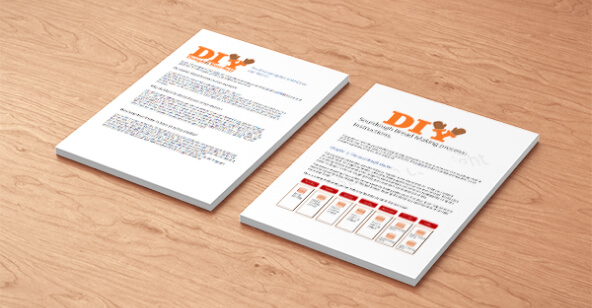 6 Handouts
Downloadable handouts let you print instructions, recipes, and the supply list - so you can use the material offline.
In addition, you get 3 hours and 2 minutes of bonus lectures, including:

How to fit sourdough baking into a busy schedule

The History of Bread
Online videos simplify the complex process of preparing and fermenting sourdough.
Breadmaking Across Cultures
A look at bread around the world
The DIY Community
You will also receive Access to a private membership group. In the membership community you'll enjoy member-only content, and even more tips for perfecting your sourdough baking experience.
Ask questions, share your bread-making progress, and benefit from the experiences of others. In this private membership group, you will be the first to see new content and a constant stream of new ideas, exclusively designed for course graduates.
Frequently Asked Questions
How much bread baking experience do I need to have? 
No experience necessary! If you're ready to get into the kitchen and learn, you've got what you need to master the art of sourdough bread baking. Our course will walk you through each step of the process, without any jargon.
I don't know if I will have enough time to commit?
Our course is designed in short segments, so you can learn at your own pace. Binge-watch if you have the time, or take it slowly as your schedule permits. You'll also learn how to fit the multi-step preparation process into a busy lifestyle, so you don't need to commit to hours in the kitchen.
What types of tools do I need to purchase to complete that class?
You'll have most of what you need already in your kitchen - mixing bowls and small containers, spoons, and a sharp knife. You'll need a digital scale. A digital thermometer is handy, but not required. A covered, oven-safe casserole for baking is also needed. In the class lecture on equipment we cover the different kinds of baking containers that can be used and the properties that are most important to success.
Do I have a limited amount of time to complete the class?
No, your purchase includes lifetime access to the class. You can watch and re-watch the lectures as often as you'd like. You'll also have access to updates and new content as we add new material to the course. 
I've heard sourdough bread baking requires a "starter". What if I don't have one of those?
In the course you'll learn how to make your own starter, using just flour and water. We focus on techniques for being successful with this fermentation process so that you'll be able to make and keep your sourdough starter for years to come.
A Taste of Home
Pascal grew up in France, with a boulangerie on every corner. After moving from France to the United States, he discovered how hard it is to find authentically baked fresh sourdough in the supermarket.
Keen to enjoy the breads of his childhood, Pascal began making his own, experimenting with techniques and identifying the exact ingredients and methods needed to create traditional French sourdough bread at home.
In this course he's excited to share the secrets to sourdough baking with you.